North County Coalition (NEW LOCATION at 120 E. Jones St, S.M.  93454)
Several organizations and resistance activists in north Santa Barbara County meet at 120 E. Jones St, Santa Maria, CA 93454.  Supported organization leaders invited to plan and organize coordinated events and political actions in the community.  Contact DCSMV board for details on meetings and dates 805-349-2708. 
---
---
UDW (The Home Care Providers Union)
UDW is a union for home care workers, by home care workers. We look after loved ones in our families, or we care for community members who need our assistance. Many of us left paid, full-time jobs to do this work, and we frequently work more hours than we are paid for. Our union allows us to fight for better working conditions collectively and, as a result, we have experienced many victories for home care over the past several decades, starting with the creation of California's In-Home Supportive Services program (IHSS) in 1973.
IMPORTA Centro de Immigration
Import is a non-profit organization recognized by the U. S. Department of Justice, with accredited representatives who can represent clients in their petitions and applications to the USCIS.  
Thanks to a grant from the State of California, during the past two years IMPORTA has provided legal representation to more DACA, naturalization, and green card applicants than any other provider of legal services in Santa Barbara County.  Most of IMPORTA's immigration legal services are offered free of charge.   Santa Maria office located at 509 W. Morrison Ave, Santa Maria, CA 93458.  Phone 1-805-604-5060.  
THE FUND FOR SANTA BARBARA
The Fund For Santa Barbara is a 501c3 nonprofit community foundation dedicated to addressing the root causes of social, economic, environmental and political challenges in Santa Barbara County.  Meets once a month.
https://www.fundforsantabarbara.org
---
---
SBCan
Santa Barbara County Action Network  (SBCAN) works to promote social and economic justice, to preserve our environmental and agricultural resources, and to create sustainable communities.
Executive Director Ken Hough, (805) 563-0463, ken@sbcan.org
http://www.sbcan.org
---
---
PLANNED PARENTHOOD, SANTA MARIA:
Planned Parenthood is one of the nation's leading providers of high-quality, affordable health care for women, men, and young people, and the nation's largest provider of sex education. We offer quality health care, backed by medical experts and over 100 years of research in reproductive care. 
https://www.plannedparenthood.org/health-center/california/santa-maria/93454/santa-maria-center-2250-90170?utm_campaign=santa-maria-health-center&utm_medium=organic&utm_source=local-listing
---
---
UFCW Union 770
Originally chartered by the Retail Clerks Association, Local 770 has been representing the interests of retail workers in Los Angeles County since 1937 and has grown from a modest 200 individuals to a 30,000 member organization also representing members in Ventura, Santa Barbara, San Luis Obispo & Kern counties.
http://www.ufcw770.org/contact
---
---
Conflict Solutions Center, Santa Maria
We are committed to the development of community-based, non-adversarial responses to conflict and differences that strengthen social harmony and support individual healing.
We serve the communities of Santa Barbara County by providing: compassionate communication, appropriate dispute resolution and problem solving practices, Restorative Justice, consultation, training, and mediation services.
http://www.cscsb.org/about/contact.html
---
---
CAUSE  Central Coast Alliance for a Sustainable Economy
Locally, CAUSE developed the Farm Workers Bill of Rights among other programs.
CAUSE's mission is to build grassroots power to invoke social, economic and environmental justice for the                      people of California's Central Coast Region through policy research, leadership development, organizing, and  advocacy.
https://causenow.org/neighborhood-campaigns/santa-maria-valley
---
---
NAACP
Santa Maria & Lompoc Branch
Lawanda Lyons-Pruitt 805-346-7510
PO BOX 1092 SANTA MARIA, CA 93456
https://santamarialompocnaacp.org
House of Pride and Equality
A place for Santa Maria's LGBTQIA, TS, Latinx+ Community. Este espacio es para la comunidad de Santa Maria que se identifica lesbian, gay, bisexual, trans community.
City of Santa Maria Proclamation June 2019: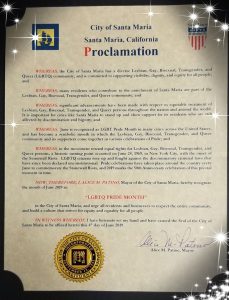 Home For Good
Home For Good Santa Barbara County supports a Coordinated Entry System, a no-wrong door, countywide system that engages and connects individuals and families experiencing homelessness to the optimal resources for their needs. We believe that everyone deserves a safe place to call home for good.
---