Office location and contact information:
Democratic Club of Santa Maria Valley
DCSMV Headquarters
327 E. Plaza Drive, Suite 2
Santa Maria, CA 93454
(Mail or Drop slot in the door)
Regular hours:  Monday  –   Friday     11 am – 2 pm
(Call for weekend hours or special appointments)
Telephone:   1 (805) 349-2708 
Leave a message.   We will return your call.
To volunteer for Get Out The Vote campaigns, email our DCSMV Field Organizer, Jovany Medina, jovany@sbdems.org or leave a message at DCSMV Headquarters 1-805-349-2708.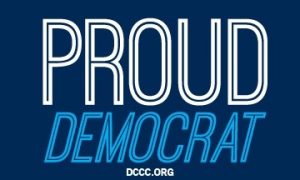 Get your FREE "Proud  Democrat" sticker mailed to you from the DCCC: