August 13, 2023:
Indictments filed by the D.A. of State of Georgia.
Trump, for the fourth time being indicted in the last year, and 18 others have been indicted in Georgia for their illegal involvement in the effort to overturn the 2020 presidential election.  Defendants have until August 25th to submit to the court house where they will be booked. Eight of the defendants are attorneys.  The D. A. targets March of 2024 for the trial.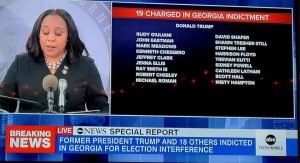 The Indictment document:  https://www.documentcloud.org/documents/23909543-23sc188947-criminal-indictment
Who are the defendants?  ://wwwhttps.politico.com/news/2023/08/15/fulton-county-trump-indictment-defendants-00111220
August 3, 2023:
4 felony counts filed by the U.S. Dept. of Justice
Former President Donald Trump has been indicted on four felony counts, including conspiracy to defraud the United States and witness tampering, for his efforts to overturn the 2020 presidential election.  The indictment from the Department of Justice describes six co-conspirators who assisted Trump, including four attorneys, a DOJ official and a political consultant.  They also sought to organize "fraudulent slates of electors in seven targeted states" and use the Justice Department to conduct "sham election crime investigations and to send a letter to the targeted states that falsely claimed that the Justice Department had identified significant concerns that may have impacted the election outcome."
https://www.pbs.org/newshour/politics/watch-live-trump-indicted-on-federal-charges-in-jan-6-case-special-counsel-jack-smith-announces
June 8, 2023:
37 felony Indictments filed by the U. S. Dept. of Justice
The twice impeached Trump will be arraigned on federal criminal charges June 13,  2023 in Florida.  Read the entire printable 49 pages of the 37 indictments, which includes espionage, obstruction, and conspiracy charges:  https://d3i6fh83elv35t.cloudfront.net/static/2023/06/trump-indictment.pdf
"Our nation's commitment to the rule of law sets an example for the rest of the world.  We have one set of laws in this country and they apply to everyone,"  said Jack Smith,  Special Counsel  of the U. S. Department of Justice,  when he made the detailed charges filed June 8, 2023 available to the public on June 9, 2023.
"Our laws that protect our national defense information are critical to the safety and security of the United States, and they must be enforced," Smith said. "Violation of those laws put our country at risk."
Smith did not go into the details of the indictment, but instead urged people to read it.
https://news.yahoo.com/prosecutor-overseeing-trump-case-says-194008253.html?soc_src=social-sh&soc_trk=ma
Later Smith said that he would seek a speedy trial, but he also seemed to counter some of Trump's attacks — including that this was a "boxes hoax" — by arguing that the case was about national security.
 Who is co-defendant Walt Nauta?
The only other person named in the indictments was Walt Nauta,  the personal military valet to Trump during his presidency, and later Trump's aide as a private citizen at Mar-A-Lago.  Nauta is a native of Guam..  Nauta attracted the attention of the government for his appearance on security camera footage from the club, which was subpoenaed by prosecutors, moving boxes in and out of a basement storage room after a grand jury subpoena.  In interviews with government officials, according to the indictment, he gave false testimony about whether he had moved boxes to Trump's residence earlier in the year. In reality, according to the indictment, Nauta brought several boxes to Trump's residence from the storage room at a time when National Archives officials were seeking the return of presidential material, but he told investigators he didn't.
March 30, 2023:
34 felony counts filed by Alvin L. Bragg, New York State, Manhattan District Attorney
Trump has been charged with 34 felony counts of falsifying business records related to a series of Trump Organization checks he signed in 2017 to his personal lawyer and fixer, Michael Cohen. The payments were to reimburse Mr. Cohen for a hush money payoff he had made in October 2016 to a porn actress, Stormy Daniels, to cover up a potential sex scandal just before the election. But, according to the indictment, internal documents falsely recorded the checks as payments for legal work Mr. Cohen had purportedly performed in 2017 under a retainer that did not exist.
—————————————————
Comparing the legal cases against Trump (written by the New York Times): https://www.nytimes.com/article/trump-cases-counts-charges-strengths.html