"We cannot rest until all people have equal opportunity to achieve their dreams regardless of their identity or background; until everyone has a guarantee of dignity, happiness and human rights regardless of their circumstances, including but not limited to access to food, education, healthcare, shelter and labor protections; and until our human community is living sustainably. " 
Democratic Club of Santa Maria Valley
Read:    "Our Democratic Values"

It's never been easier to register and vote. Your vote is your voice.
Register, update, and sign up for convenient Vote By Mail ballots:

CA STATE MULTI-LINGUAL WEBSITE:
CLICK HERE TO REGISTER TO VOTE
Is your name (and signature), address, and political party preference up to date?  It is a requirement to re-register if any of these things have changed since you last voted.  Registration can be done at any time as long as it is several days (15) prior to an election.

Eligible 16 and 17 year olds can register to vote and can vote in an election if they are 18 years old on election day.
—————————————–
SEVERAL WAYS TO SIGN UP TO VOTE BY MAIL! !

  
You have the option to have your ballot mailed to you prior to an election.  As of  2019, NO  POSTAGE  STAMPS NEEDED TO RETURN YOUR BALLOT BY MAIL.  Just fill out the ballot, sign the envelope and hand write your address  (no peel off address stickers)  and mail, or drop in the 24 hour drop box in the parking lot of the Elections Office at 511 E. Lakeside Parkway, Suite 134, Santa Maria, 93455 (off E. Betteravia Road & Centerpoint Parkway.)  Note:  The drop box is only for voting ballots,  not for VBM applications or other materials.
If you have already registered, and wish to vote by mail, sign up before February 25,  2020:
Print a Vote By Mail application here
Mail application to:
Santa Barbara County Elections Office,  PO Box 61510 
Santa Barbara CA 93160-1510
or
Fax to 805-568-2209 or drop off at the local Elections Office
Vote By Mail applications can also be obtained by requesting an application be mailed to you by the Elections Office at 800-722-8683.
________________________________________________________________________________________________________
SANTA BARBARA COUNTY ELECTIONS OFFICE (Bilingual):
SANTA MARIA CONTACT:
511 E. Lakeside Parkway, Suite 134,  S.M., CA 93455
Phone 1-800-SBC-VOTE
Note:  The Santa Maria Elections Office may not be open, or have limited hours,  during some off election months.  However, the Recorders Office in the same building can accept registration forms and assist with some voter information.  The Santa Barbara Elections Office can answer questions all year by phone at 1-800-722-8683.

The Elections Division is responsible for voter registration, the administration of all public elections within the county, and the maintenance of all related official records.  Typical responsibilities include: the candidate nomination process; initiative and referendum petitions; arguments and rebuttals for ballot measures; candidate's campaign statements and financial disclosure statements; voter registration and vote by mail ballots; management of polling places and the computation and certification of voting results.
______________________________________________________________________________________________________
IMPORTANT UPDATE: As of Saturday, October 10th, 2015 former Governor,  Jerry Brown, signed into law measures which will make voter registration automatic for ALL California citizens who get or renew a California drivers license. The bill was a priority of newly elected Secretary of State Alex Padilla.
ALL voters registered in California are eligible to vote in ALL statewide and national elections. NO photo ID is required. There are elections every two years, and sometimes in off years. THIS DATE IS SET BY LAW AS THE 1st TUESDAY AFTER THE FIRST MONDAY IN THE MONTH OF NOVEMBER. IT MAY NOT BE CHANGED. Polls in California open at 7AM and close at 8PM on election day.
More information about Vote-By-Mail ballots:
IF when you registered to vote, you initialed  the "Vote By Mail" option on your registration form, you will receive your ballot approximately 29 days prior to the election. To Vote, follow the instructions on the ballot.  If you would like to submit an application,  
print the Vote- By- 
Mail application and mail to the Elections Office:  
CA Vote By Mail Application
IF you have not received your ballot by 20 days before the election contact your County Election's office at 1-800-722-8683 and explain the problem.
IF you prefer to vote at your polling place and you have received a "Vote by Mail" ballot, then take that ballot to the Polling place and request a new ballot.
In any event you may cast a ballot at your polling place on Election Day regardless of any other action you may have taken. It will be a provisional ballot and will be counted last and only IF you have not voted elsewhere or elsewhen in this election.
___________________________________________________________________
NOTICE  – IF YOU LIVE IN THE CITY OF SANTA MARIA
The City of Santa Maria has been divided into four voting districts as of 2017.   Each district will have a representative on the City Council that resides in that district.  Only the  SM City Council member from your district will appear on your ballot.  All of the City Council Members represent and are available to the entire city of Santa Maria regardless of their designated district.  The City Council candidates  appear on the ballot for the General Election in November.  The Mayor,  District 1 , and District 2 have open seats in 2020.
  Northwest quadrant is District 1
  Northeast quadrant is District 2
  Southwest quadrant is District 3
  Southeast quadrant is District 4
Look up your voting District by address link:
Santa Maria Voting District by address
Or call the City of Santa Maria at 805-925-0951 Ext. 2306.
———————————————————————————

CALIFORNIA ELECTION CALENDAR FOR  2020:
PRESIDENTIAL PRIMARY ELECTION:
*  "Voter  Information Guides" mailed Jan 23 – Feb 11, 2020
–  First Day Vote-By-Mail Ballots will be mailed 
    Monday, February 3, 2020
–  Close of Registration *
    Monday, February 17, 2020
 – ELECTION DAY
    Tuesday, March 3, 2020
PRESIDENTIAL GENERAL ELECTION:
–  First Day Vote-By-Mail Ballots will be mailed
   Monday, October 5, 2020
–  Close of Registration *
   Monday, October 19, 2020
–   ELECTION DAY  
    Tuesday, November 3, 2020
* You can "Conditionally" register and vote at the county elections office after the deadline.
For additional voting information:
                                   ————————————————————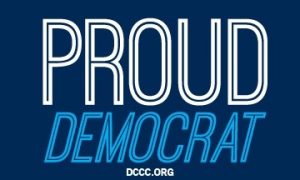 Get your FREE "Proud  Democrat" sticker mailed to you from the DCCC: