COUNTY OF SANTA BARBARA                                                                                                  http://www.countyofsb.org/bos/home.c                  
Mail:  105 Anapamu St, Santa Barbara, CA  93101
Click the link below for meeting schedules:  (Call for additional hearings and schedules.)
NOTE: Scroll down for the link to the new District maps approved on 12/13/2021 for Santa Barbara County.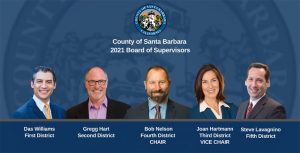 ---
NOTE: North SB County Supervisors (Santa Maria, Guadalupe, Orcutt, Tanglewood):
3rd District Joan Hartmann,  4th District Bob Nelson,  and 5th District Steve Lavagnino.

Endorsed by the Democratic Party.
As of December 13, 2021,  the Santa Barbara County Commission has finalized revised District maps,  based on the 2020 Census.  Graphics of the 5 maps are on pages 18-22.
——————————————————————-
FORMER Santa Barbara County Supervisor's 5 Districts Map link:.