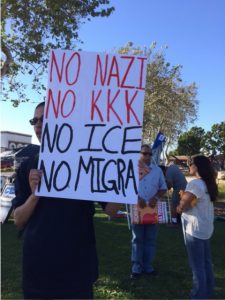 The California Values Act (SB54) would make California a sanctuary state for our immigrant community by drawing a firm line between local law enforcement and federal immigration agents banning immigration enforcement at our schools, hospitals, and courthouses.
Call Assembly Member Jacqui Irwin (Oxnard area) 1-916-319-2044.
Call Governor Jerry Brown 1-214-897-0322.  
Read full SB54 Bill:    http://leginfo.legislature.ca.gov/faces/billNavClient.xhtml?bill_id=201720180SB54