---
(ALSO see Home Page Tab DEMOCRATIC CLUB LINKS for DCSMV events and meetings)
---
JULY 2017.  GRAND JURY FINDS THE CITY OF SANTA MARIA TO BE UNRESPONSIVE TO THE COMMUNITY.

Community sentiments……."If you don't have a seat at the table, you are probably on the menu."  The City isn't listening as groups ask to be heard.  
City of Santa Maria found to be unresponsive to the community in grand jury report.
Santa Maria Times article:  The grand jury's concerns include its belief that the task force coverage area is limited, the city of Santa Maria has direct control, and there is not a plan yet to create new taxes or fees to support future endeavors to increase youth safety.  The jury also believes that at-risk youth and their families aren't represented on the task force; specifically that the One Community Action Coalition does not have a seat at the task force table.
https://santamariatimes.com/news/local/govt-and-politics/grand-jury-santa-maria-task-force-on-youth-safety-perpetuates/article_28900aff-4d5e-50ae-81f9-fe1804ff4101.html
KEYT:  The report continues, "The Jury finds that the at-risk youth and their families that the Task Force aims to help have little role in developing the envisioned changes and services that would affect them." 
The 7-page report claims the Mayor and City Council of Santa Maria of not including representatives at the policy-making level of parents and at-risk youth who would be directly affected by the services of the Santa Maria Mayor's Task Force on Youth Safety.
The Jury noted that the city's major and City Council's "exclusive control of the strategic plan's design and implementation may cause costly delays."
Among several other concerns and issues observed by the Grand Jury, several recommendations to remedy these issues are included in the report.
http://www.keyt.com/news/safety/grand-jury-report-slams-santa-maria-for-limiting-its-youth-safety-task-force/543934900
---
CITY HALL – SANTA MARIA:
Santa Maria City Council picks election district boundaries Map N, not favored Map J.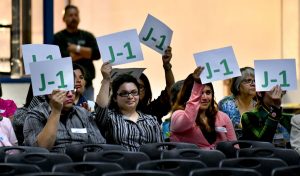 The Santa Maria City Council, in a 4-1 vote Tuesday, picked its new election district boundaries and which quadrants of the city will choose its representatives in the 2018 election.
The council picked the map drawn by National Demographics Corporation (NDC), the firm it hired to guide them through this process. The map was labeled "Map N" for the purpose of the meeting held at the Minami Center. 
Councilman Michael Moats cast the lone dissenting vote.
The election district map chosen by the City Council beat out two other maps submitted by residents that the council narrowed down from a total of 16 map options at its April 20 special meeting.
The city's southeast and southwest quadrants will choose their representatives first, according to the map.
The southwest district reaches from the Santa Maria Public Airport to about Main Street at the west side of Broadway. The southeast district stretches from the Orcutt border, past Marian Regional Medical Center, to the Santa Maria River levee.
Incumbent Councilman Jack Boysen resides in the southwest district, and Councilwoman Etta Waterfield lives in the southeast.
There will be no more hearings scheduled and City Council meetings will go back to the Council Chambers at 110 E. Cook Street, SM  93454 beginning May 16, 2017.
2017 Meeting calendar link:      http://www.cityofsantamaria.org/home/showdocument?id=8877
Santa Maria Times article May 3, 2017.  https://santamariatimes.com/news/local/govt-and-politics/santa-maria-city-council-picks-election-district-boundaries/article_d7d0190e-9801-56e1-b2ce-b39855b5a631.html
---
---
CITY HALL – SANTA MARIA:
The Santa Maria City Council has chosen 3 maps for consideration, presented on April 20th at the Public Hearing held at 809 Panther Dr, SM, 93454.
Schedule for future public hearings:
Tuesday, May 2, 2017, 6:30 p.m., at the Minami Center, 600 W. Enos Street
Tuesday, May 16, 2017, 6:30 p.m., at the Abel Maldonado Community Youth Center, 600 S. McClelland Street

Link to the City of Santa Maria for all other related information:  http://www.cityofsantamaria.org/city-government/departments/mayor-city-council/district-elections-3575#PUBLIC%20SUBMISSIONS%20(INCLUDING%20DRAFT%20MAPS)%20&%20CORRESPONDENCE
 (See all 3 final maps on our POSTS CONTINUED tab)
---
---
RALLY SANTA MARIA – CAUSE – SUPPORT IMMIGRANTS:
May 1, 2017, Monday.  Meet at Santa Maria High School on S. Broadway, at 3:00pm and march at 3:30pm to Main and Broadway.
Join CAUSE, the North County Coalition, and local students this upcoming Monday, May 1st, for a national event to support local workers, immigrants and the statewide push to pass SB54 (California Values Act) and make California a sanctuary state! At 3pm we will be gathering in front of Santa Maria High and begin marching up Broadway, there we will rally at the corner of Main & Brodaway around 3:30pm. We are already hearing from local businesses that they will be closing down for the day to show support, please spread the word, flyer is attached.  Click on image to download flyer.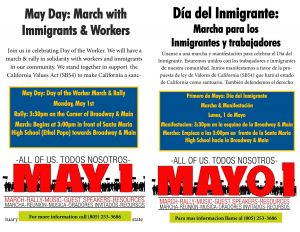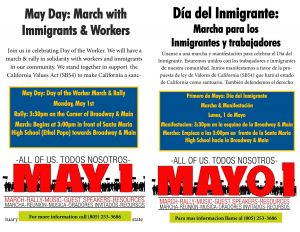 Here is the Facebook Event as well:
https://www.facebook.com/events/316311902121590/
---
---
PUBLIC HEARING ON OIL TRAINS – SAN LUIS OBISPO:
UPDATE: It's not over! – 

Phillips 66 can appeal the decision to

the California Coastal Commission

even though on March 14, 2017 the SLO County Supervisors voted to DENY Phillips 66 Oil appeal of a no vote last year to allow up to 80 oil tank cars to carry oil 3 times a week for 20 years through Central Coast cities.  Thank SLO County Supervisors Lynn Compton, Adam Hill, and Bruce Gibson for their no vote.
(Past event)  – UPDATE – 100 concerned citizens attended this hearing on March 14:  Public hearings where SLO County Supervisors voted.  SLO County Supervisors meeting at 1055 Monterey St, SLO at 9:00 am – 5:30 pm.
Rally was held at noon at the same address.
SIGN THE PETITION TO STOP TRAINS FROM RUNNING THROUGH OUR TOWNS. Sign and share.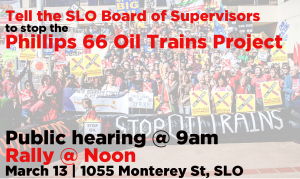 http://stopoiltrains.nationbuilder.com
---
CITY HALL – SANTA MARIA:
District-based Public Hearings, Santa Maria City Council:
Another public hearing starting at 5:30 p.m. on THURSDAY, March 30, 2017 at the Veterans Memorial Community Center, 313 W. Tunnell St, Santa Maria, 93458.After at least two hearings, maps will be crafted, leading to additional public hearings to collect comments on the proposed districts.
A draft version of the maps will be unveiled in mid-April, with two more public hearings planned for May, before a deadline of May 22.
The city hopes to adopt the new districts by June, with the first two council members to be chosen in November 2018 when seats now filled by Jack Boysen and Etta Waterfield will be on the ballot.
http://www.cityofsantamaria.org/city-government/departments/mayor-city-council
---
CITY HALL – SANTA MARIA:
(Past Event) MARCH 7, 2017 Meeting:  Future meetings scheduled through May.  Make your voices be heard!
SANTA MARIA CITY COUNCIL.  Public comment requested at City Council meetings.
The Santa Maria City Council voted February 21, 2017 to hold elections with a district-based system, and will begin the process of designing the district-based voting map on Tuesday, March 7, 2017, 6:30 pm, 110 E. Cook St, S.M.
CONTACT YOUR SANTA MARIA CITY COUNCIL PERSON:
City of Santa Maria (805) 925-0951:
JACK BOYSEN MAYOR PRO TEM Ext 2191
ETTA WATERFIELD COUNCILMEMBER Ext 2187
ALICE PATINO MAYOR Ext 2188
MICHAEL MOATS COUNCILMEMBER Ext 2191
MIKE CORDERO COUNCILMEMBER Ext 2190
—————————————————————————————————————————————————-
SOCIAL JUSTICE EVENT – CAUSE – SANTA MARIA:
February 24, 2017 
CAUSE extends a cordial invitation to attend their unity event and learn about CAF's important social justice work. Cause is a nonprofit organization (501 (c) 4) that seeks to educate and mobilize diverse working class and young voters and lobby for policies benefiting working families. Appetizers and refreshments. Please RSVP (805)720-1263 or hazel@cause.org. UDW Hall, 402 S. Miller Street, Santa Maria, 93454.
—————————————————————————————————————————————————-
TOWN HALL/OPEN HOUSE IN SAN LUIS OBISPO –
(R) CA ASSEMBLYMAN JORDAN CUNNINGHAM:
February 23, 2017
HEAR OUR VOICE. Respectfully share issues of significance with the newly elected (R) CA Assemblyman, District 35, Jordan Cunningham at his open house at 801 Grand Avenue, San Luis Obispo, CA 93401, Thursday, February 23, 4:30pm-7:30pm. https://ad35.asmrc.org
—————————————————————————————————————————————————–
SB COMMISSION FOR WOMEN – SANTA MARIA:
February 23, 2017
Register www.eventbrite.com. 9:00 am-1:00 pm, Thursday, February 23, Veteran's Memorial Center, 313 W. Tunnel St, Santa Maria, 93458. The Santa Barbara County Commission for Women invites you to a free event featuring three panels of business, government & community activists and non-profit women leaders and executives who will reveal how women can become more involved in their communities and connect women to the many leadership tools and resources available in our region. Noon lunch box. Keynote Speaker Kelly Jenkins. Panelists Mayor Alice Patino, Marell Brooks, S.B. County Supervisor Joan Hartmann, Hilda Zacharias, Lorraine Chavez, Ashley Costa, Kim Davis.
—————————————————————————————————————————————————–
OPEN HOUSE/TOWN HALL MEETING – SAN LUIS OBISPO
(D) U.S. CONGRESSMAN SALUD CARBAJAL:
February 22, 2017
UPDATE: A large crowd turned out to the Arroyo Grande town hall meeting February 22nd. Members of the Central Coast asked questions regarding the ACA, environment, immigration, military services, and other issues of concern.
https://carbajal.house.gov/contact Please join 24th District Congressman Salud Carbajal for a town hall meeting Wednesday, February 22, 2017 from 6-7:30pm in Arroyo Grande at the Lucia Mar Unified School District Building, 602-G Orchard Street, Arroyo Grande, CA 93420.
"Last month, on the anniversary of the 1969 Santa Barbara Oil Spill, I announced the introduction of my first piece of legislation in Congress, the California Clean Coast Act. This legislation would permanently ban future offshore oil and gas leasing in areas of the Outer Continental Shelf off the coast of California.
In California, our coastal communities, local economies, and fragile ocean ecosystems cannot afford another disastrous oil spill. That is why it is critical that we pass this legislation to protect our coastal environment from further oil drilling and preserve its beauty and vibrancy for future generations."
WHAT ARE YOUR PRIORITIES IN CONGRESS?
There are many important challenges we face, from creating jobs and helping to improve the economy, to passing a comprehensive immigration reform bill, improving health care, or lowering the cost of higher education. Please take a moment to take my survey and let me know what you think the main focus of the 115th Congress should be, and as always, feel free to send me more detailed thoughts by email.
What issue(s) represent your top priorities for Congress?
Creating jobs and expanding the middle class
Protecting and improving our health care system
Strengthening our national defense
Reducing our debt and deficit
Enacting meaningful legislation on gun violence prevention
Passing comprehensive immigration reform
Addressing climate change and protecting the environment
Improving K-12 education and lowering college costs
Other:
——————————————————————————————————————————————————–
CITY HALL – SANTA MARIA:
February 21, 2017
Please attend the district-based voting system. February 21, 2017.
The Santa Maria City Council is expected to discuss potentially changing how its members are elected at its next meeting Tuesday at City Hall, 110 E. Cook St, Santa Maria, 93454.
The council will consider taking steps toward creating a district-based voting system to replace its current at-large voting system. Board members have been chosen by the at-large system since the city was incorporated in 1905.
THE CITY COUNCIL ORGANIZATION
The City Council is comprised of five members, one (1) Mayor and four (4) Councilmembers. The Mayor and the four members of the City Council are elected for 4-year terms by the electorate. The Mayor presides at Council meetings and serves as the executive and ceremonial host of our city government.
The City Council also serves as the governing board of the Parking Authority, and the Housing Advisory and Appeals Board.
———————————————————————————————————————————————————–
AHC – SANTA MARIA CAMPUS – VOTE ON SAFE ZONE FOR IMMIGRANTS:
February 14, 2017  The Allan Hancock College Board will vote on 13.H (Resolution 17-01) supportive of Diversity, Unity, and Undocumented students. Hancock should join Santa Barbara City College and the Santa Maria Joint Union High School District, who have taken the lead, along with countless other educational institutions across the country, in declaring themselves safe zones for immigrants. This is about sending a clear message to AHC campus community that they are always safe to learn at Hancock. Speakers welcomed.
February 14, 6:00 pm, Room B-100 (new building), 800 South College Drive, Santa Maria 93454.
---
RALLY – SAN LUIS OBISPO – PLANNED PARENTHOOD:
FEBRUARY 11, 2017 is the ANTI-choice demonstration day anti-PP groups call "DEFUND Planned Parenthood Day." Two things to do:
1.) Rally in SLO on Feb 11, 7:30 a.m. – 2 p.m., Emerson Park, 1316 Beach St., San Luis Obispo. Meet on blacktop at the park. From there, groups of 50 at a time will walk down to the PP clinic and stand in silent, peaceful demonstration in support of Planned Parenthood. Groups will change out at the clinic every half our or as needed. Register: http://tinyurl.com/zcyu9gy
2.) Call, write, or email our reps (see below) with the message shown (or write your own) and then send the same message to every other Republican and Democrat.
The U.S. House and Senate have already undertaken several efforts to threaten women's health care and more are expected, including:
Cutting funds to Planned Parenthood. Republicans in Congress have made clear their intentions to defund Planned Parenthood, which provides affordable, critically needed, and quality preventive health care to millions of women and men across the country. Everyone deserves access to health care like cancer screenings, birth control, and STD testing at their chosen provider. Attacks on Planned Parenthood are attacks on access to reproductive health care.
Limiting abortion coverage for nearly all women. The House-passed H.R. 7 would permanently restrict federal funds for abortion care and create burdensome regulations for insurers to cover abortion services. As a result, many women would lose access to the care they need.
Enacting abortion bans that disregard the needs of women. Bills to ban abortion after 20 weeks and so-called "heartbeat bills" are a part of a dangerous, out-of-touch, and coordinated effort to chip away at abortion access. Not only are they unconstitutional, these types of bill diminish the important role that doctors play in helping women make decisions about their reproductive health.
CALL OR CUT AND PASTE THE FOLLOWING MESSAGE INTO YOUR EMAIL:
SUBJECT: Oppose Efforts to Restrict Reproductive Health Care
MESSAGE:
Dear Representative/Senator:
As your constituent, I urge you to vote NO on any attempt to limit or restrict women's access to reproductive health care. I strongly support choice in the determination of one's reproductive life and increased access to health care and family planning services.
Several harmful efforts that threaten women's health care access and autonomy have already begun, and they are expected to continue. Among these threats are limiting abortion coverage for nearly all women, cutting funds to Planned Parenthood, enacting a so-called "heartbeat bill," and banning abortion care after 20 weeks.
I trust that every woman has the ability to make her own informed choices regarding her reproductive life within the dictates of her own moral and religious beliefs. I urge you to oppose these and any efforts that would restrict women's access to reproductive health care.
Thank you, and I look forward to your response.
Sen. Dianne Feinstein
District: CAS01
Phone:(202) 224-3841
Fax:(202) 228-3954
https://www.feinstein.senate.gov/public/index.cfm/e-mail-me
Sen. Kamala Harris
District: CAS02Phone:(202) 224-3553Fax:(202) 228-3863
Kamala D. Harris Email: https://www.harris.senate.gov/content/contact-senator
Rep. Salud Carbajal
District: CA24
Phone:(202) 225-3601
https://carbajal.house.gov
Laura Selken
on behalf of the Democratic Club of Santa Maria Valley
———————————————————————————————————————————————————–
RALLY – SANTA MARIA – NO DAPL:
February 9, 2017  Join us for the NO DAPL (Dakota Access Pipeline) Rally and March at 5 p.m. at the corner of Broadway and Main in Santa Maria. Bring signs if you have them.
At 5:45 p.m., join us as we march south on Broadway to 120 E. Jones Street for a meeting of the SBCAN North County Roundtable/North County Coalition Environmental Committee Meeting at the Cornerstone Community Meeting Room.
---
CANDELIGHT VIGIL – SANTA MARIA -ROE V WADE:
January 22, 2017
Roe v Wade
43rd Anniversary Candlelight Vigil
Sunday, January 22, 2017  5-6 p.m.
Planned Parenthood, 415 East Chapel St., Santa Maria
Please bring a candle and a friend!  (rain or shine)
Shareth8is message!!
Info: Rebecca 264-4474
---
SPEAKER SANTA MARIA – AAUW LOBBYIST:
January 21, 2017
You are invited to attend a very special program you will not want to miss
Lobbying in Sacramento for California Women and Girls
featuring Shannon Smith-Crowley, CA AAUW Lobbyist
Saturday, January 21, 2017
10 AM to Noon
Board of Supervisors Hearing Room, 511E. Lakeside Pkwy
Santa Maria, CA
No charge. Reservations requested.
Contact: Judy Frost enjfrost@aol.com
The Santa Maria Branch of AAUW (American Association of University Women) will be hosting registered part-time lobbyist for AAUW-California, Shannon Smith-Crowley. She is the founder of Partners in Advocacy which specializes in the areas of medical and health advocacy including reproductive health, women's health, and equity for women and girls.
Smith-Crowley will be speaking about her work with AAUW-California and her lobbying efforts in Sacramento for the women and girls of California. She will be sharing strategies on how to combine voices and work together in achieving mutual goals. This is a great opportunity for persons interested in learning effective methods of lobbying and advocacy locally and at the state level.
---
RALLY – SANTA MARIA – INAUGURATION DAY UNITED AGAINST HATE
January 20, 2017
United Against Hate Rally
Rally & March
Join us for a peaceful rally and march.
On Inauguration Day we will come together, united against hate, to stand up for our communities.
Unidos Contra el Odio
Manifestación y Marcha
Friday, January 20th
4:00pm-6:00pm
Corner of Main & Broadway, Santa Maria, CA
For more information please contact Abe: (805) 253-3686
Santa Maria Valley Democratic Club
Guadalupe Catholic Worker House
Santa Maria Queer Community
Viernes, 20 de enero
4:00pm-6:00pm
Esquina de la Main & Broadway, Santa Maria, CA
Para mas información llame Abe: (805) 253-3686
Stand Up … Speak Up … Speak out