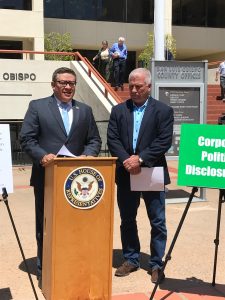 CA 24 Congressman Salud Carbajal and Bill Ostrander, Director of Citizen's Congress (and 2018 Candidate for CA 35 Assembly), held a joint press conference to announce new proposed legislation aimed at reforming our broken campaign financing system.
San Luis Obispo, CA – On Wednesday, May 2, Congressman Salud Carbajal (CA-24) and Bill Ostrander, Director of Citizen's Congress, will introduce the Corporate Political Disclosure Act of 2018. This legislation requires public disclosure of secret corporate spending in federal elections so that shareholders, small businesses, and communities are informed when corporations spend money to influence elections.
The presentation was held at the SLO County Courthouse Plaza, 1050 Monterey St, San Luis Obispo, beginning at 12 Noon. The press conference open to the public.
Background:
In 2010, the Supreme Court's Citizens United v. FEC ruling allowed unrestricted campaign spending by special interests in federal elections, permitting corporations to spend unlimited funds on political advertising, either directly or through third parties to influence federal elections, which ultimately led to the emergence of Super PACs.
 
Since Citizens United, undisclosed spending in campaigns has increased dramatically.   According to the *Center for Responsive Politics, special interest groups spent nearly $1.5 billion on the 2016 election. Super PAC spending nearly doubled over the same time period, going from $609 million in 2012 to $1.1 billion in 2016.
 
The Corporate Political Disclosure Act of 2018 aims to help fix this broken financing system!
Additional Note added by the Democratic Club of Santa Maria Valley:    Billionaire brothers David and Charles Koch, whose influence can be seen in some of the individuals Trump has chosen to help run his administration — Marc Short, for instance, named to be White House legislative liaison, has long worked with and for the Kochs — helped bankroll Citizens United when it was founded in 1988.  
Track Dark Money and Political Donors, on website opensecrets.org:
 
https://www.opensecrets.org/news/2017/01/citizens-united-7-years-later/?utm_source=DCSMV+Members&utm_campaign=7346e2d48a-EMAIL_CAMPAIGN_2018_05_02&utm_medium=email&utm_term=0_739ef4f1f3-7346e2d48a-14524749