CELEBRATING 100 YEARS OF WOMEN GAINING THE RIGHT TO VOTE IN ALL 50 STATES!
CAR CRUISE (1 IN EACH CAR TO OBSERVE SOCIAL DISTANCING)  WITH GOLD AND PURPLE CREPE PAPER STREAMERS AND PAPER DECORATIONS 100TH ANNIVERSARY OF THE 19TH AMENDMENT.
CALL 805-349-2708 DCSMV HEADQUARTERS AND LEAVE A MESSAGE FOR LAURA FOR MORE DETAILS.
It is required that all attendees remain in their cars
as much as possible. Wear masks if they stand outside
their vehicles, keeping social distant throughout the gathering.
Wear white, and hats appreciated.  Decorate cars with purple and gold crepe paper or ribbon, such as ariels and door knobs.  Signs taped or painted to the sides of the cars with reference to the 19th Amendment in English, and if possible, in Spanish.  Maps for the cruz will be provided at the Minerva Club location.  There will be 3 short speeches with a loud speaker so everyone can hear inside their cars, and then off we go!!!  We will drive in groups of 10 cars with lead cars through several neighborhoods.   Maps will be distributed to each driver.  Don't worry if you get separated, just follow the map.  Flyers have been passed out to the homes we will be driving by,  and we will honk our horns to let them know when we pass by!!
Get your groove on, Ladies!!  We are proud of our Suffrage ancestors!!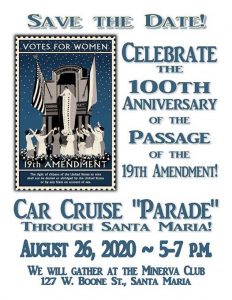 ——————————————————————–

110. E. Cook St, Santa Maria, CA  93454
Monday, May 25, 2020, 3:00 pm.


In-Car Protest, Tuesday, April 7, 2020, 5:00 pm.  Parking lot at SM Library.
URGENT ACTION: Ask Gov. Newsom to Protect Grocery and Pharmacy Workers
https://ufcw770.org/sign-the-petition/
URGENT ACTION:  Ask Santa Maria City Council to pass an Evictions & Foreclosure Moratorium: