November 7, 2020:
Joe Biden has won the 270 Electoral College Votes to become the President-Elect of the United States of America!  Inauguration Day is January 20, 2021.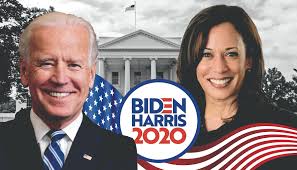 —————————————————————————————————-
November 3, 2020 is the last day to vote in the 2020 Presidential Election.
———————————————————————————————————–
August 18, 2020:
IT'S OFFICIAL!!  JOE BIDEN HAS ACCEPTED THE DEMOCRATIC NOMINATION FOR PRESIDENT OF THE UNITED STATES!!
To support the Biden/Harris campaign, text 30330.


                                                                                                          Congratulations!!
                              August 11, 2020 Joe Biden announced his Vice President running mate is Senator, Kamala Harris.
——————————————————————————————————————————-
July 20, 2020:
The Democratic Party nomination is tentatively planned for August 17-20, 2020.  Joseph Biden is the presumptive nominee.  Due to the COVID-19 pandemic, Biden will accept the nomination from his home in Delaware, not at the previously planned convention in Milwaukee, Wisconsin.  There will still be several days of speakers available that will be on virtual media, details to be determined. 
https://abcnews.go.com/Politics/biden-longer-travel-milwaukee-dnc-convention-amid-coronavirus/story?id=72190484
—————————————————————–
CA PRIMARY Election Results:
All 58 California counties have reported election results to the CA Secretary of State office.  The Secretary of State has summarized and certified the county reports in the official Statement of Vote (Official Results) on May 1, 2020.
————————————–
                                   THE  DEMOCRATIC PRESIDENTIAL DEBATE
                                                            There are currently no planned Presidential debates
The last debate was Sunday, March 15, 2020,  Phoenix, AZ  moved to Wash., D.C.  
Down to two Democratic Presidential candidates in the debate, Senator Bernie Sanders and former V-P Joe Biden.  The debate did not have a live audience in accordance with the social distancing recommendation to curb the spread of COVID-19, but was  available to watch on CNN and CNN.com.  
Note: Debate information is subject to change at any time. 
Here is information on the 2020 Presidential Candidates as of  March 17, 2020:  https://www.uspresidentialelectionnews.com/whos-running-for-president-in-2020/
Voting information in SB County March 2020:
How to vote for a President in the California March 3, 2020 Primary:  https://www.sos.ca.gov/elections/voting-info/how-vote-president/?#*
March 3, 2020 Primary Election ballot in SB County  CLICK HERE
Certified winners in Santa Barbara County will be available on April 2, 2020.  To check ongoing updates for ballots cast in SB County, visit the Elections Office website:https://countyofsb.org/care/elections/results/2020march03/results-updt-2.htm
———————————————————
Watch the full video of the December 19, 2019 debate:  https://www.uspresidentialelectionnews.com/2019/12/full-video-watch-the-pbs-newshour-politico-democratic-debate/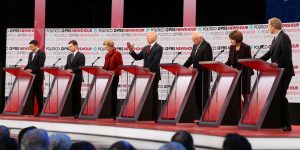 ——————————————————-
The fifth Democratic presidential debate held on Wednesday, November 20, 2019 at 5 p.m. Pacific time and co-hosted by The Washington Post and MSNBC in Atlanta, GA.Ten candidates have qualified to be onstage at this debate:  

Joe Biden, Cory Booker, Pete Buttigieg, Tulsi Gabbard, Kamala Harris, Amy Klobuchar, Bernie Sanders, Tom Steyer, Elizabeth Warren, Andrew Yang.
It can be viewed on MSNBC apps and Washingtonpost.com (which may require a minimal paid subscription to watch.)
---
——————————————————
OCTOBER 15, 2019 debate:
The Fourth Presidential debate was on October 15, 2019:
The Times and CNN Hosted the Democratic Debate in Ohio, October 15, 2019.
WASHINGTON (AP) — A dozen candidates have qualified for the fourth Democratic presidential debate later this month.
The debate held Oct. 15 at Otterbein University in Westerville, Ohio, and hosted by CNN and The New York Times. The 12 qualifying candidates for the October 15, 2019 debate are:  former Vice President Joe Biden; New Jersey Sen. Cory Booker; South Bend, Indiana, Mayor Pete Buttigieg; former Obama housing secretary Julián Castro; Hawaii congresswoman Tulsi Gabbard; California Sen. Kamala Harris; Minnesota Sen. Amy Klobuchar; former Texas congressman Beto O'Rourke; Vermont Sen. Bernie Sanders *; activist Tom Steyer; Massachusetts Sen. Elizabeth Warren; and tech entrepreneur Andrew Yang.
* Although Bernie Sanders has had a health issue, he will be participating in the debate on October 15th.
 —————————————————–
August 15, 2019 debate:
Media news as of August 15, 2019, click link:     Qualifying candidates
—————————————————–
Everything you want to know about the Democratic Party rules for the 2020 election:
Click link:    https://democrats.org/2020-2/
"Democrats are the party of inclusion. We know that diversity is not our problem—it is our promise. As Democrats, we respect differences of perspective and belief, and pledge to work together to move this country forward, even when we disagree … we do not merely seek common ground—we strive to reach higher ground.                                                                                                      "
DEMOCRATIC PARTY PLATFORM