JOAN HARTMANN
Balanced Leadership & A Record                                                                                  of Accomplishment for the 3rd District
Meet Joan Hartmann, Sunday, February 16, 2020, 3:00-4:30 pm.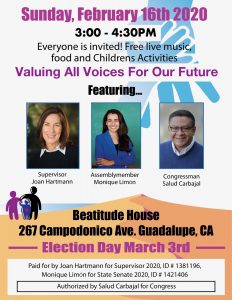 Enhancing disaster response, recovery & preparedness

Balancing County budgets while fully restoring our Rainy Day Fund

Improving the safety of our roads & neighborhoods

Advocating for expanded mental health care & homeless facilities

Championing clean energy programs & water-wise policies

Expanding parks, trails & active living to improve public health & our quality of life

Promoting initiatives to support children, working families & seniors

Advancing government transparency & community engagement
Neighborhood walks Saturdays and  Sundays for a couple of hours.  Call Alma Hernandez 1-805-598-5344 to volunteer.