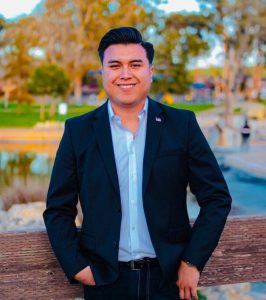 Osvaldo Sotelo
Website:  https://osvaldofordistrict1.com/my-story
Facebook:    https://www.facebook.com/OsvaldoForDistrict1
Find your Santa Maria District by address:  https://santamariacity.maps.arcgis.com/apps/webappviewer/index.html?id=a12d2f43a91e4d869de09458e15cf34a
What I stand for:
AFFORDABLE HOUSING
My own experience has inspired me to make AFFORDABLE HOUSING a key focus of my candidacy. 
In Santa Maria, homelessness and the housing crisis are both critical problems, and they affect families and children throughout our city.  Our county has the third-largest percentage of homeless students in the entire state.  31% of the students of the Santa Maria-Bonita school district are defined as homeless, which means that they live in a shelter, or in a motel, or in a car or RV, or in transitional housing, or they are doubled up with another family in a temporary situation–like my family once was.   
LIVING WAGES
In the last five years in our county, rents have gone up 27%, while wages have only improved by 8%.  So another way to make housing more affordable is by bringing more higher paying jobs to Santa Maria, and by supporting small business owners. This is why LIVING WAGE JOBS will be a key focus of my candidacy. As a professional who works for Goodwill Industries of VTA SB Counties as a Workforce Services Supervisor, I know the challenges that many of our residents face when seeking employment opportunities. In 2015, my organization received a federal grant to enroll 260 young adults from Santa Maria in a job readiness program.  At the end of that year, we had successfully enrolled 280 individuals. What this demonstrates is the eagerness of our residents to work for their dreams and their need for living wage employment. It also demonstrates the need for job training. That's why I support Community Work Force Agreements–also known as Project Labor Agreements.  Such policies, which are already established in other California cities, can help to ensure quality job training, local jobs, and higher wages for Santa Marians.  Our City Council should put such agreements into action.  
EDUCATIONAL AND LEADERSHIP OPPORTUNITIES FOR OUR YOUTH
After  I graduated from Pioneer Valley High School, I decided to pursue my educational dream by going to college. I graduated from California State University of Los Angeles with a bachelor's degree in Criminal Justice. And after college, I decided to move back to Santa Maria while pursuing my Master's degree in Public Administration. I was eager to work and give back to my community. Unfortunately, even though I was a recent college graduate, finding a good paying job was a challenge.  And I'm sure some of you can relate!  So, I became an intern for the County of Santa Barbara, and that experience gave me the leadership training I needed to advance my career. We need more programs that support our youth leadership development. When we provide opportunities to our youth–through job training, or internships, or recreational programs, we invest in a future that is better for all Santa Marians, especially young Santa Marians.
Santa Maria is a city that I love, and my love has filled me with a desire to give back.  I am committed to rolling up my sleeves and getting work done. I understand the challenges that residents in District 1 face on a daily basis. I am committed to improving the quality of life for all Santa Marians by working for affordable housing, living wage jobs, and opportunities for our youth. As I begin this journey, I look forward to fighting for families who are overlooked–like mine, like yours, LIKE OURS. Together, we can be heard! Together, we can secure a better future for all of us. 
Visit Osvaldo's website and Facebook page for more information and to donate.
Vote By Mail.  Convenient and private.  Request an application on the website below.
Register/update your voting records for the Tuesday, November 3, 2020 election:  https://www.sos.ca.gov/elections/cavoter/