TAKE BACK THE HOUSE IN 2018.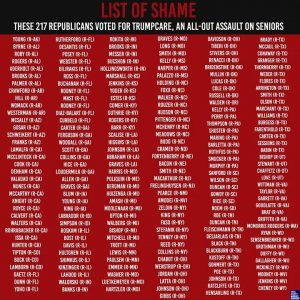 Here's a way to donate as little as $1 to spread among all 24 vulnerable targets in 2018, or to designate to specific districts (CA highlighted in red below.)  ActBlue site has the breakdown by district when you click on the link below.
The fantastic folks at ActBlue have created something called "nominee funds" that you can donate to immediately. These funds are organized on a district-by-district basis: You contribute now, and all money isheld in escrow until after each state's primary. At that point, the cash is transferred in one fell swoop to the Democratic nominee, who can then start using the money for his or her general election campaign pronto.
A big surge in donations now would have huge salutary effects right away: It would both terrify Republicans and boost Democratic efforts to recruit good candidates. Of course, it would also help us defeat these Republicans next year. And as it happens, 24 is exactly the number of seats we need to take back the House.
So make them pay: Donate $1 right now to each of the Democratic nominee funds targeting vulnerable House Republicans who voted to destroy access to health care.
We've identified the following 24 "yes" votes as among the most endangered Republicans up for re-election next year, so we're adding all of these districts to our new slate of nominee funds:  (CA highlighted in red.)
Donate to VOTE OUT Republicans in 24 DISTRICTS – 
AZ-02
McSally, Martha
IL-06
Roskam, Peter
CA-10
Denham, Jeff
IL-13
Davis, Rodney
CA-21
Valadao, David
IL-14
Hultgren, Randy
CA-25
Knight, Steve
KS-03
Yoder, Kevin
CA-39
Royce, Ed
MI-11
Trott, Dave
CA-45
Walters, Mimi
MN-02
Lewis, Jason
CA-48
Rohrabacher, Dana
MN-03
Paulsen, Erik
CA-49
Issa, Darrell
NE-02
Bacon, Don
FL-25
Diaz-Balart, Mario
NJ-11
Frelinghuysen, Rodney
FL-26
Curbelo, Carlos
TX-07
Culberson, John
IA-01
Blum, Rod
TX-32
Sessions, Pete
IA-03
Young, David
VA-02
Taylor, Scott
DONATE and VOTE. THEM. OUT in 2018!
CLICK ON THIS SECURE LINK:
https://secure.actblue.com/contribute/page/dkendorses2018dems?refcode=20170504fsdemslate
---