SACRAMENTO — As a legislative deadline loomed, California senators Thursday — in some cases, reluctantly — voted to pass a $400 billion plan to create a government-run health care system without a way to pay for it.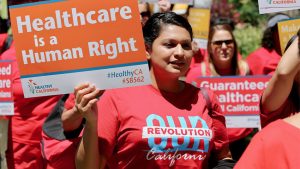 As the single-payer bill heads to the state Assembly, this is exactly the media message that the private insurance and pharma industry wants. And it's utterly, completely, embarrassingly inaccurate.
With single-payer, the cost would drop to $331 billion — meaning the people and businesses in California would pay $37 billion less than they are paying now for health care, a new study shows.
http://www.healthycaliforniaact.org/the-big-media-lie-about-single-payer-health-care/