For more information and schedule of events, visit NAACP website:
https://www.santamarialompocnaacp.org
Black History Month 2020 in United States began on                                                                                                              Saturday, February 1 and  ends on  Saturday,  February 29.
(The Santa Maria celebration event in Santa Maria will be held Saturday, March 7th.  See information below.)

Black History is a time of rejoicing, celebrating and thanking those African-Americans for giving us hope or a life lesson that could be used.
This year's theme for Black History month, "African Americans and the Vote", recognizes the struggle for voting rights among both black men AND women throughout American history. It is an ongoing struggle for people of color that continues into the 21st century.
Black History Month is an annual celebration of achievements by African Americans and a time for recognizing the central role of blacks in U.S. history.  Also known as African American History Month, the event grew out of "Negro History Week," the brainchild of noted historian Carter G.
A study of the black experience and the effect of society on them and their effect within society aims to, among other things, help eradicate many racial stereotypes. Black studies implements history, family structure, social and economic pressures, stereotypes, and gender relationships.
https://www.nytimes.com/2020/02/19/opinion/black-history-month-america.html
https://africanamericanhistorymonth.gov/about/
EVENT – Saturday, March 7, 2020, noon – 4:00 pm
Plan to attend the NAACP picnic in Santa Maria.
Celebrate Black History Month at Pioneer Park (1140 E. Foster Rd, Orcutt 93455)
FREE LUNCH *,  meet local elected officials.  Entertainment.  PLEASE PLAN TO ATTEND.
(Click on image to enlarge)
EVENT – Saturday, March 21, 2020,  10:00 am.  Annual Prayer Breakfast.
Please note advanced ticket purchase required by 3-16-20.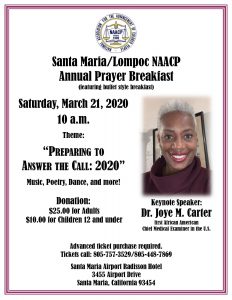 (Click on image to enlarge)