Make your reservations by December 1st  for the Democratic Club of Santa Maria Valley annual Holiday Party on Thursday, December 15th.   Our Program Guest Speaker will be Santa Maria City Councilwoman, GLORIA SOTO.  She will be followed by other recently elected persons, entertainment by Gale McNeeley, and special presentations.
Where:  Lake Marie Estates, Lake Marie Valley Club,  2327 Fallen Leaf Dr., 93455                                                              Date:     Thursday, December 15, 2022                                                                                                                                                            Time:     Doors open at 5:30 p.m.,  Dinner served at 6:00 p.m.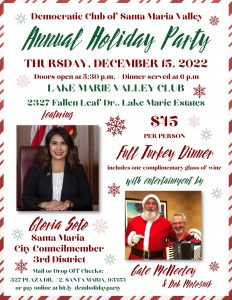 Reservations and payment of $45 per person must be paid in advance and received by Thursday, December 1, 2022. Space is limited. Use the ActBlue link:    https://secure.actblue.com/donate/dcsmvholiday   to pay online, or you may mail or deliver your check to DCSMV headquarters, 327 Plaza Drive, Suite 2, Santa Maria, CA, 93454.  If the office is closed, use the mail slot in the door. Be sure to indicate if you prefer a vegetarian meal (if paying online, please leave your name and how many vegetarian meals requested on our office phone, or send us an email) otherwise a non vegetarian meal will be provided.  Table sponsorships are also available with names on the event poster. For additional information, call our office at 1-805-349-2708 or email dcsmv@dcsmv.net.
Gloria Soto was born, raised, and educated in Santa Maria. She attended Pioneer Valley High School and earned her Associate Degree at Allan Hancock College and her B.A. at Chapman University. She is currently the Executive Director of Future Leaders of America (FLA), one of California's largest Latinx youth-serving organizations. Before joining the FLA team, Gloria served in various positions at Planned Parenthood California Central Coast (PPCCC), including education, public affairs, and development.
In 2018, Gloria was the youngest woman elected to the Santa Maria City Council as part of the national wave of young women of color seeking representation in local governments. She currently serves on the boards of the Allan Hancock Foundation, The Fund for Santa Barbara, 805 UndocuFund, and One Community Action.