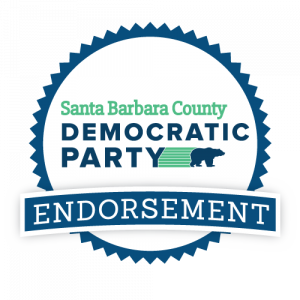 The Santa Barbara County Democratic Party and the California Democratic Party made endorsements for the upcoming  Tuesday,  June 7,  2022,  Statewide Primary election.  Ballots will be mailed to registered voters beginning the first week of May.  Please return your ballots early.   Visit the Santa Barbara County Elections Office for contact numbers, link to register to vote, regular and extended hours, address of the elections office, and maps:  https://www.countyofsb.org/2808/Elections

Also, visit our Facebook page for ongoing election information:  https://www.facebook.com/DemocraticClubofSantaMariaValley
VOLUNTEER TO GET OUT THE VOTE!  Reach out to voters to elect our vetted and endorsed Democrats!  Call Jovany Medina at S.M. Democratic Headquarters 1-805-349-2708 for Santa Maria area campaign programs.
(Click on the names to connect to candidates' websites.)
U.S. Senator: Alex Padilla
NOTE:  Vote TWO places on the ballot for Alex Padilla for a U. S. Senate full 6 year term ending in 2028, 

and a U. S. Senate unexpired term ending January 3, 2023 (he assumed the office in 2021 to replace Kamala Harris).  
Lieutenant Governor: Eleni Kounalakis
Treasurer: Fiona Ma
Attorney General: Rob Bonta
Superintendent of Public Instruction: Tony Thurmond
For more information on voting, visit our Registration and Voting Guide:    https://santamariademocrats.info/voting/