VOTE NO! The recall election of Democrat Governor Gavin Newsom is a partisan power grab led by Right wing Trump supporting elements of the Republican Party.  This Republican forced special election is very costly to we taxpayers, and is a politically partisan attempt to disrupt our recovery.  Governor Newsom has high approval ratings, but the Republicans are counting on low turnout by Democrats.
VOTE NO!   DO NOT SELECT AN ALTERNATE listed on the ballot
Ballots will be MAILED to all California registered voters beginning in mid August 2021.  Don't delay, Vote No and return ballots by mail.  Some ballot drop off areas may be established also.  Estimated ELECTION DATE  is SEPTEMBER 14,  2021.

Governor Newsom has led our state through the pandemic by rolling out the vaccine quickly, supporting working families with state stimulus checks, taking on the fossil fuel industry, and maintained a billion dollar budget surplus.  Our state has been a leader in managing the pandemic and in the reopening. We have experienced a world wide crisis that few leaders could have navigated as expertly and knowledgable as Governor Newsom,  and who has workable plans to continue leading our state in the future.   It is shameful that there are devious forces who continue to create problems for political gain.  A disruption in our progress would be a devastating mistake, especially by installing someone unknown, unproven, and inexperienced.  VOTE NO.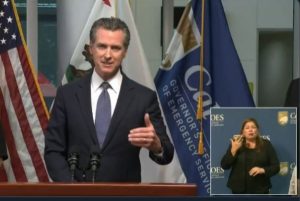 A thorough discussion by Governor Gavin Newsom of the budget for the reopening of California:  https://www.youtube.com/watch?v=zQPvXN0FOuo
Show your support.  Purchase NO RECALL buttons and totes on our shopping site:   https://bit.ly/DemsOfSantaMariaValley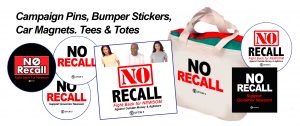 VOLUNTEERS:   Call and leave a message at our Headquarters if you are interested in Getting Out The Vote in the Santa Maria area.   We will be contacting voters about this special election which is scheduled for SEPTEMBER 14, 2021.  Leave your name, a return phone number,  and the best time to call you.  Our first of several meetings will be on Saturday,  June 26.  Call and leave a message for future meeting information at Democratic Club Headquarter 1-805-349-2708.  WE HAVE YARD SIGNS.