VOTE NO!  (Leave blank alternate choices.) Sign and date the envelope.  Here is a list of all Santa Barbara County 24 hour walkup/driveup ballot drop off boxes:  https://countyofsb.org/care/elections/resources/drop-boxes.sbc  Ballots must be dropped off BEFORE 8:00 pm on Tuesday, Sept. 14. 
If mailed, must be at the POST OFFICE  BEFORE 5:00 pm Sept 14.  Polling places listed on the envelope will be open until 8:00 pm. 
If qualified, you may STILL REGISTER with required ID and VOTE  if done IN PERSON at the elections office (Santa Maria,  511 E. Lakeside Parkway Dr, 93455).   If you have LOST YOUR BALLOT,  or DIDN'T RECEIVE YOUR BALLOT in the mail in August, go in person to the elections office.  You can still vote!  (To contact the Santa Barbara County Elections Office,  call 1-800-722-8683 ext 7)
VOTE NO!   DO NOT SELECT AN ALTERNATE listed on the ballot.
                                              ——————–
VOLUNTEERS:   Call our Headquarters if you are interested in Getting Out The Vote in the Santa Maria area.   We will be contacting voters right up to 8 pm on election day about this special election which is scheduled for Tuesday,  SEPTEMBER 14, 2021.  We may be on the other line, so please leave your name and a return phone number.  Call Democratic Club Headquarter 1-805-349-2708.  WE HAVE YARD SIGNS.  
                                                  —————————
The recall election of Democrat Governor Gavin Newsom is a partisan power grab led by Right wing Trump supporting elements of the Republican Party.  This Republican forced special election is very costly to we taxpayers (over 200 million dollars), and is a politically partisan attempt to disrupt our recovery and undermine our democracy.  Governor Newsom has high approval ratings, but the Republicans are counting on low turnout by Democrats.
Ballots  have been  MAILED to all California registered voters beginning in mid August 2021.  Don't delay!

Governor Newsom has led our state of California, the largest economy in the United States, through this devastating pandemic by rolling out the vaccine quickly, supporting working families with state stimulus checks, taking on the fossil fuel industry contributing to climate change, creating education, jobs, and mental health programs, and has maintained a billion dollar budget surplus.  We have experienced a world wide crisis that few leaders could have navigated as expertly and knowledgeable as Governor Newsom.
Our state is a leader in managing the reopening because of the leadership of Governor Newsom.    Governor Newsom has workable plans based on real time data and hands on experience to continue leading our state in the future, including coordinating diverse communities, medical experts, and recovery resources.  This has been a horrific time in history.  We must stay the course. 

It is shameful and destructive that there are devious forces who continue to create problems for political gain.  A disruption in our progress would be a devastating mistake, especially by installing someone unknown, unproven, and inexperienced.  These "replacement" candidates are backed by the extreme right wing of the Republican Party who advocate continuing the minority voting restrictions movement, deny climate change, are against a living wage, have minimized the attack on our U.S. Capitol on January 6th,  promote bizarre conspiracy theories, and have as their advocates several disgraced and discredited Trump cronies and other nefarious Trump supporting characters.   They are very versed in playing on the fears and anxieties of vulnerable people.  This pandemic is worse because of THEM, and now they want to capitalize on the grief and upheaval THEY caused with even more false information and fear mongering.

VOTE NO.  Return the mail in ballot as soon as you receive it (sign the envelope).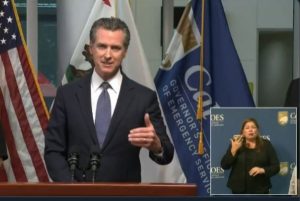 A thorough discussion by Governor Gavin Newsom of the budget for the reopening of California:  https://www.youtube.com/watch?v=zQPvXN0FOuo
Show your support.  Purchase NO RECALL buttons and totes on our shopping site:   https://bit.ly/DemsOfSantaMariaValley