REGISTER HERE BEFORE JANUARY 11, 2021.  Let's have strong Democratic representation on the Central Coast, including Santa Maria Valley! (CLICK IMAGE TO READ FULL POST)

2021 ADEM Election ~ Every two years in odd-numbered years registered Democrats vote for delegates to the CA Democratic Party Central Committee.   Assembly District Delegates (ADD)  and the Democratic State Central Committee (DSCC) are responsible for planning and attending informational meetings throughout the region and working with other DSCC delegates throughout California to represent their community.  NOTE:  CANDIDATE FOR SANTA MARIA VALLEY, JULIANA NEEL,  IS A MEMBER OF OUR DEMOCRATIC CLUB.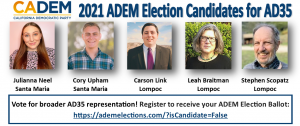 Each Assembly District can elect up to 14 delegates — 7 "self-identified females" and 7 "other than self-identified females" to be Assembly District Delegates (ADD).
AD35 runs from northern Santa Barbara County through San Luis Obispo County. Our goal is to increase representation from the rural/outlying areas of AD35 in North Santa Barbara County — Santa Maria and Lompoc, as well as North San Luis Obispo County — Paso Robles.
Due to COVID-19, the ADEM elections this January will be entirely vote-by-mail. There will be no in-person voting. In order to vote in the ADEM election, you will need to register for a ballot.
The deadline to register is Monday, January 11, 2021!
Let's get the vote out in AD35! Sign-up to receive your ADEM Election ballot by clicking the link below. Please vote for broader AD35 representation!