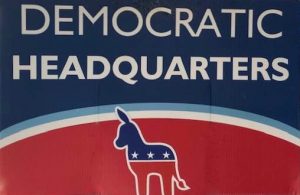 Our Santa Maria Democratic Headquarters will be temporarily closed and in person meetings suspended in accordance with suggested efforts to minimize the spread of COVID-19.  Our third Thursday of every month meetings will not be held at the IHOP but will be conducted online beginning May 21, 2020.  Please leave a message and return phone number at  805-349-2708 for more information.  Stay well and safe.  Thank you.  
 Mail:  DCSMV, 327 E. Plaza Dr, #2, Santa Maria, CA 93454.  Headquarters: 1-805-349-2708.  
Members can find additional information on the "Members Login" tab on this website, including the monthly Proud Democrat newsletter.
Visit our Democratic Club of Santa Maria Valley Facebook page:  https://www.facebook.com/DemocraticClubofSantaMariaValley/?ref=hl
Explore our website features:  https://santamariademocrats.info/2019/09/09/welcome-to-the-dcsmv-website/