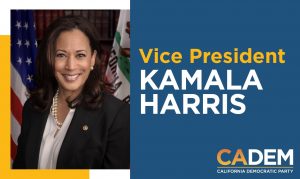 Statement from Joe Biden,  August 11, 2020:
You make a lot of important decisions as president. But the first one is who you select to be your Vice President. I've decided that Kamala Harris is the best person to help me take this fight to Donald Trump and Mike Pence and then to lead this nation starting in January 2021.
These aren't normal times. For the first time in our history, we're facing three historic crises — all at the same time. We're facing the worst pandemic in 100 years. The worst economic crisis since the Great Depression. The most powerful calls for racial justice in a generation. And we have a president who has both failed to lead on the virus — costing lives and decimating our economy — and fanned the flames of hate and division.
I need someone working alongside me who is smart, tough, and ready to lead. Kamala is that person.
I need someone who understands the pain that so many people in our nation are suffering. Whether they've lost their job, their business, a loved one to this virus. This president says he "doesn't want to be distracted by it". He doesn't understand that taking care of the people of this nation — all the people — isn't a distraction — it's the job. Kamala understands that.
I need someone who understands that we are in a battle for the soul of this nation. And that if we're going to get through these crises — we need to come together and unite for a better America.  Kamala gets that.