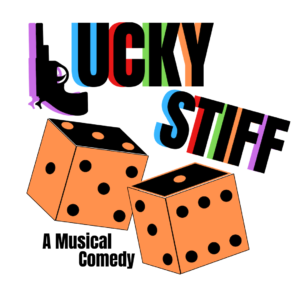 Join us for a fun afternoon!  
Sunday, October 27, 2019 
Great comedic musical, with appetizers/desserts,
wine, and coffee served at intermission! 
Play starts promptly at 1:30 p.m., so come early!
Santa Maria Civic Theatre
1600 N. McClelland St., Santa Maria, CA  93454
$35  per person.  Pay online HERE,
or drop off or mail check to:
DCSMV, 327 E. Plaza St, Santa Maria, CA 93454
We'll confirm by phone or email.
"Harry Witherspoon, an unassuming English shoe salesman, lives an uneventful life in East Grinstead, England. His life takes a dramatic turn when he learns that his uncle Anthony, a casino manager from Atlantic City, has been killed by his blind lover. Harry learns that he stands to inherit $6,000,000 from his uncle – but only if he agrees to take his Uncle's corpse on a trip to Monte Carlo. Otherwise, the money will all go to his uncle's favorite charity, the Universal Dog Home of Brooklyn. In a quest to gain his uncle's inheritance, Harry sets out to fulfill Anthony's dying wish. However, in Monte Carlo, he meets a host of quirky characters who are also in hot pursuit of his uncle's money."
Call the Democratic Club of Santa Maria Valley (805) 349-2708 for more information.