If you missed it, there are media coverage links at the bottom of this post.
The town hall ran from 5:30 to 7 p.m. at the Veterans Memorial Center, 313 W. Tunnell St. It is open to the public and free to attend. Noelle Rosellini, press secretary for the congressman, said the majority of the meeting would be devoted to questions from the public.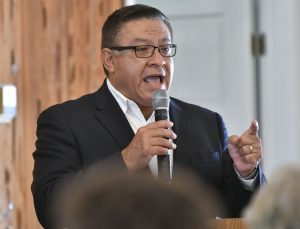 The Extreme Risk Protection Order Act of 2019 would provide incentives for states to pass laws that allow concerned friends, family members or law enforcement to petition courts to temporarily remove guns from someone's possession if they are determined to be at risk of harming themselves or others. 
On Friday, the Central Coast's congressman became the latest House representative to call for an impeachment inquiry into the president.
According to CNN, 118 Democratic representatives as of Friday have called for starting impeachment proceedings.
In a statement issued by his office last week, Carbajal said Trump needed to be held accountable for the conduct that was laid out in the report prepared by Special Counsel Robert Mueller. 
In the 448-page report summarizing the Special Counsel's investigation, Mueller stated there was no criminal conspiracy between the Trump campaign and the Russian government to interfere in the 2016 election. 
Additionally, Mueller detailed 10 instances of possible obstruction of justice by the president but did not determine whether those acts were criminal. 
  –  To visit Congressman Carbajal's website, click here:  https://carbajal.house.gov/
  –  Read media coverage about the Town Hall Meeting on August 8, 2019 in Santa Maria:
https://www.noozhawk.com/article/carbajal_town_hall_turns_lively_santa_maria
https://www.keyt.com/news/congressman-carbajal-holds-heated-town-hall-meetingin-santa-maria/1107439556
https://www.ksby.com/news/local-news/rep-salud-carbajal-host-town-hall-in-santa-maria
https://santamariatimes.com/news/local/too-important-to-ignore-carbajal-calls-for-gun-safety-legislation/article_72ec4e39-ccba-53d8-8d5b-df965deed4d5.html#utm_source=santamariatimes.com&utm_campaign=%2Femail-updates%2Fdaily-headlines&utm_medium=PostUp&utm_content=299982f7dd0fe15462113df5cce9f3ea6f50118a