Organized by Women's March in front of SLO Superior Court to advocate for reproductive justice. The anti-abortion movement, built over nearly five decades, is closer than it has ever been to its long-held dream of dismantling Roe v. Wade, the landmark ruling that legalized abortion nationwide."
#stopthebans #hearourvoice #hearourvote#truthtopower
Women's March Organization: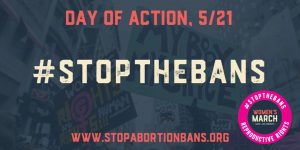 The Women's March SLO joined thousands in a nationwide day of action on May 21.   In partnership with groups and organizations across the US, we are calling to #StopTheBans and fight for our reproductive rights and access to quality reproductive healthcare services, which includes safe, legal and affordable abortion and birth control for all people, regardless of income, location or education. Together, we will show up to speak out and fight back against this unconstitutional attempt to gut Roe and punish women. Together we say: Stop the bans.
PPSLO  will provide a #YouKnowMe board where you can share your stories (if you wish to do so), words of encouragement and your advocacy for reproductive rights.
Speakers:
Ruzena Brar
Michelle Call, GALA
Gina Welisch and Natalie Smith, Cal Poly Planned Parenthood Generation Action
Tina Ballantyne, Planned Parenthood CA Central Coast
…more coming.
Bring signs in support of women's rights and reproductive justice.
Voter registration table will be set up by Indivisible: Rapid Response Team SLO.
This is a peaceful event. Women's March San Luis Obispo follows Kingian Principles of non-violence. We attack ideas and change policy. We work towards a better future. We do not attack specific people. All who advocate for reproductive rights are welcome.
#StopTheBans San Luis Obispo Supporters:
Planned Parenthood CA Central Coast
Cal Poly Planned Parenthood Generation Action
Planned Parenthood Central Coast Action Fund
SLO County Progressives
Students for Social Justice MBHS
Indivisible: Rapid Response Team SLO
Together We Will San Luis Obispo
Bend the Arc San Luis Obispo
SLO County Democratic Party
Please consider supporting WMSLO's ongoing advocacy by making a donation – https://www.flipcause.com/secure/cause_pdetails/NTE0NjY=
Find event close to you at www.stopabortionbans.org
___
#StopTheBans is a partnership of ACLU, ACLU of Georgia, Advocates for Youth, All* Above All Action Fund, Center for American Progress, Daily Kos, EMILYs List, Gender Justice, Hope Clinic for Women, In Our Own Voice: National Black Women's Reproductive Justice Agenda, Indivisible, International Women's Health Coalition, Jane's Due Process, MoveOn, NARAL Pro-Choice America, NARAL Pro-Choice Arizona, National Abortion Federation, National Center for Lesbian Rights, National Council of Jewish Women, National Council of Jewish Women St. Louis, National Institute for Reproductive Health Action Fund, National Organization for Women, National Partnership for Women & Families, National Women's Law Center, Planned Parenthood, People's Defense, Sexuality Information and Education Council of the United States, State Innovation Exchange, UltraViolet, #VOTEPROCHOICE, Whole Woman's Health, Whole Woman's Health Alliance, Women's March, Women's March California, Women's March Minnesota, and Women Winning. Additional partners to be added.