Upcoming SB County Planning Commission public hearing, May 29, 2019:
Recently, on Wednesday, March 13 at 9:00AM, the Santa Barbara Planning Commission held a public hearing on ERG's Project.  Although the Planning Commission shamefully chose to hold the hearing during working hours, 100 residents attended the hearing and expressed, once again, all of the multiple reasons why this project SHOULD NOT BE APPROVED.  WE MUST KEEP TELLING THEM.  Oil Companies have 100 year plans, and will never stop pushing their destructive agenda… AND WE MUST NOT STOP EITHER!  Tell the Planning Commission to deny the Project and protect our climate, air quality, water resources, and public health.  ERG is proposing to drill dozens of new thermally enhanced, steam injection oil wells, producing thousands of barrels of oil per day.  
This project is only 1900 feet from an elementary school and residences. It would increase air pollution, damage residents' health, degrade water quality and ecosystems, generate traffic and 24/7 light and noise pollution, and lock in dirty fossil fuel production for decades to come – at a time when climate reports warn we need to accelerate a transition to cleaner sources of energy. 

Meet on May 29th at 8:30 am, 511 East Lakeside Parkway, Santa Maria, CA 93455.  (Joe Centeno Building off E. Betteravia and Centerpointe Parkway.)  
Contact Santa Barbara Planning Commissioners before the next hearing!!
**** Phone or Email comments on ERG's 233 new steam injection wells to:
SANTA BARBARA COUNTY PLANNING COMMISSION:
Deputy Director: John Zorovich/Energy, Minerals & Compliance
Supervising Planner: Errin Briggs 805-568—2047
Staff Contact: Nancy Minick 805-884-8050
Staff Emails: dvillalo@co.santa-barbara.ca.us,  and nminick@countyofsb.org.
 Also, contact our elected SB County Board of Supervisors:
Link:  https://santamariademocrats.info/your-reps-and-maps/north-santa-barbara-county-supervisors/
Click on the link: NO drilling! Reject proposals by oil companies AERA, ERG (currently in bankruptcy) and PetroRock.  These projects would drill through the

Santa Maria Valley Groundwater Basin

, which provides clean drinking water to

12 cities

and over

200,000 people

. We need to make sure our county

votes against these proposals

! 
Steam Injection to extract oil is what is happening at Orcutt Hill and several other Orcutt sites on the east side of 101 Freeway mixed in with agriculture land. And now big oil company ERG wants to develop even further in Cat Canyon, OVER THE SANTA MARIA WATER AQUIFER. Let the Santa Barbara County Planning Commission know we expect them to do their jobs for the community and deny ERG's request and prevent them from steam injecting through our water table!!
INJECTION:
Pressurized steam is injected into the oil-bearing zone over several days, creating fissures for the hot steam to reach the thick crude oil and soften it.
EXTRACTION;
Steaming ends and as the heated oil becomes more mobile, it is drawn up through the same well system. As more and more oil is taken out of the ground, support for the surface substrate weakens, causing land around the well to sink.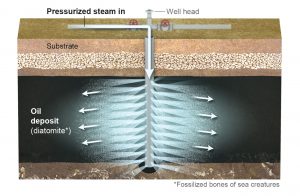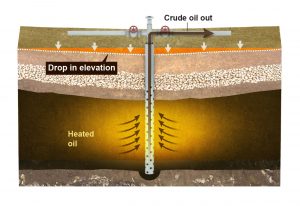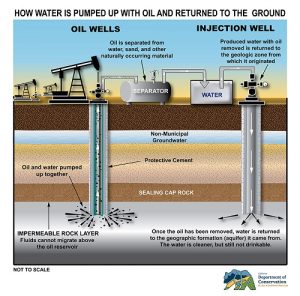 SIGN THE PETITION:
https://secure.foodandwaterwatch.org/site/Advocacy?cmd=display&page=UserAction&id=2949
CONTACT YOUR SANTA BARBARA COUNTY SUPERVISOR:
https://santamariademocrats.info/your-reps-and-maps/north-santa-barbara-county-supervisors/
OTHER ARTICLES OF INTEREST:
https://www.environmentaldefensecenter.org/programs_post_type/climate-energy/three-new-thermally-enhanced-onshore-oil-projects/
http://www.pbs.org/newshour/rundown/earthquakes-triggered-by-fracking/
This project would double the county's current onshore oil production and is starkly at odds with our county's Climate Action Plan goal to reduce greenhouse gas emissions in the county by 50% by 2030.  
It would drill through the Santa Maria Valley groundwater basin, which provides clean drinking water for residents and agriculture. Well castings can and do fail, and surface spills are inevitable, thus risking our county's largest clean water source. ERG has already spilled more than any other onshore oil company since 2010. 
The crude oil in Cat Canyon is so thick that ERG needs to truck in a lighter crude from Kern County to mix with it, and then truck the combined crude back out again to a pump station – requiring 156 one-way truck trips every day of light and blended crude oil. 
Trucks are the least safe way to transport oil, and accidents can shut down roads for extended periods of time. The project creates roadway hazards by adding oil tanker trucks to the 101, a critical transportation corridor for our region.
This project represents an industrial expansion in a high fire hazard area. ERG has had 34 fire department violations over the past four years and there have been recent fires on their site. This is an unacceptable risk given ever-increasing wildfire risk due to climate change.
ERG's natural gas pipeline, with a capacity greater than all residential natural gas usage in the county, poses an explosion risk along the 101 where a gas leak and roadway spark could trigger a vapor cloud fire. 
The project presents a financial risk to the county. When a spill, fire or other disaster occurs, companies often leave taxpayers and counties on the hook. ERG is in bankruptcy, making the chances of them paying for damages highly unlikely.  They have even failed to pay property taxes. In County Council's 2017-19 budget request, they reported that ERG owed the county $14 million in back taxes