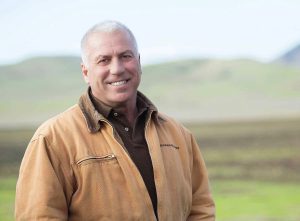 Bill Ostrander, Candidate for CA  Assembly,  35th District
Why I'm Running
"I'm Bill Ostrander and I'm running to represent California's 35th Assembly District, which includes all of San Luis Obispo County and almost 50% of Santa Barbara County.
With the extraordinary energy of protest and resistance we've experienced here in the 35th Assembly District and across the country, now is our best chance in the past 50 years to flip this seat from red to blue.
But I want to focus on the issues of concern to the residents of the district. That's why I'm hoping that our current Republican Assembly representative, Jordan Cunningham, will agree that residents of the 35th Assembly District will benefit from a wide-ranging discussion of political positions, ideas and ideals in the form of a series of Lincoln-Douglas style debates. These debates will be an opportunity for a substantive dialogue about where we are going and how we want to get there.
It's my hope that these debates will not include now-typical political equivocation and poll-tested political sound bytes with no substance. Instead, these debates – to be held across the county – will follow the general form of the seven debates between Stephen A. Douglas and Abraham Lincoln during the 1858 Illinois state election campaign. The issues Douglas and Lincoln discussed were of critical importance the basic underpinnings of the union. We are now experiencing a time in our history that many believe are comparable to the troublesome times faced in 1858.
While, at the time of these momentous debates, Senators were elected by the state legislatures, Douglas and Lincoln nevertheless chose to take their message directly to the people. I would hope that our incumbent Assemblyman will do the same as Douglas and Lincoln, gather in our communities' public squares throughout the 35th district, and debate the substantive issues we face today.
These debates will be free to the public because that's what democracy dictates. I believe that everyone, regardless of political party, deserves a meaningful discussion of the complex issues that are crucial to our future. Let's lay out our visions for the future for our district, our communities, and pour neighborhoods. And let's provide voters with the information they need to make a truly informed decision based on the issues and not just empty rhetoric.
Remember, it's not THE government, it's OUR government, and we must all take part for democracy to flourish."
For more information, visit my website:  https://www.billostrander.org
Register to vote or update information:    https://registertovote.ca.gov