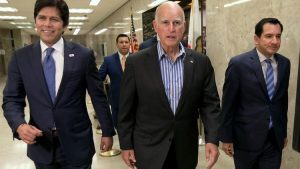 California lawmakers on Saturday passed a "sanctuary state" bill, SB54, to protect immigrants without legal residency in the U.S., part of a broader push by Democrats to counter expanded deportation orders under the Trump administration.
The decision came hours after a federal judge in Chicago blocked the Trump administration's move to withhold Justice Department grant funds to discourage so-called sanctuary city policies.
On the Senate floor minutes before 2 a.m. on Saturday, De León said the changes were reasonable, and reflected a powerful compromise between law enforcement officials and advocates.
"These amendments do not mean to erode the core mission of this measure, which is to protect hardworking families that have contributed greatly to our culture and the economy," he said. "This is a measure that reflects the values of who we are as a great state."
The bill's core aim is to limit the ways that state and local officials can cooperate with federal immigration enforcement. Measures range from treating schools and courthouses as "safe zones" to restricting the ability of law enforcement to detain people on behalf of federal immigration officers. Though Brown worked to soften the bill, allowing for more interaction with federal authorities, experts like Santa Clara University law professor Pratheepan Gulasekaram say the measure still provides the most robust "p rotection available for non-citizens anywhere in the U.S."
Does that mean people in California won't be deported?
No. Some immigrant rights advocates don't like the phrase "sanctuary state" because they believe it gives a false impression of the amount of protection California can provide. (Others don't like it because the word "sanctuary" has become an epithet to many conservatives. And others object to it because they believe it might suggest to undocumented criminals that they'll be safe from the law in the state.) Nothing in the bill prevents federal immigration authorities from coming into California. But given that the feds have limited resources, their ability to target individuals in the state is lessened when local officials aren't willing to help.
Why can't the federal government just force local agents to assist them?
While immigration policy is the purview of the federal government, court cases have found that the federal government cannot force state and local officials to carry out federal laws or simply commandeer local officers and turn them into unwilling deputies. To some extent, the Trump Administration can use money — either as a carrot or a stick — to entice cooperation, which is why the federal Department of Justice has threatened to withhold funds from sanctuary jurisdictions. Cities and counties in California have, however, pushed back on that move in lawsuits.
What about concerns that criminals will slip through the cracks?
That is a criticism that has been voiced by the California State Sheriffs' Association, which has argued that public safety could be endangered if officials are limited in their ability to work with federal authorities. In some cases, for example, the measure would bar them from alerting immigration officers when an undocumented person has served time for a crime and is about to be released. The bill was amended early on to allow for cooperation in cases that involve violent or serious felonies such as murder, rape, kidnapping and robbery.
Read more:
http://www.latimes.com/politics/la-pol-ca-california-sanctuary-state-bill-20170916-story.html