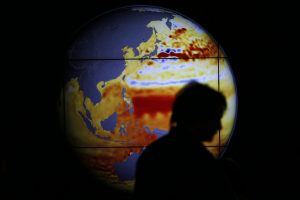 The U.S. is already showing signs of the effects of climate change, according to a recent scientific report. (PBS Hour)   Photo with elevated sea levels in 2015.
"Many lines of evidence demonstrate that human activities, especially emissions of greenhouse or heat-trapping gases, are primarily responsible for recent observed climate change."
This report is part of what's called the National Climate Assessment. It comes out every four years. It's congressionally mandated. And the larger report, this National Climate Assessment, will presumably come out next year.
So far, many scientists find that there has been very little direction, in fact, from the White House about the report altogether.
http://www.pbs.org/newshour/bb/scientists-concerned-government-climate-change-report-wont-released/#