Santa Maria Mayor Alice Patino is not on the list.
U.S. Climate Mayors: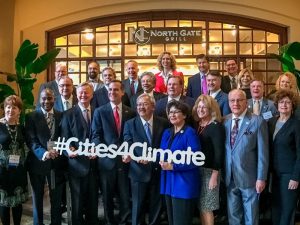 We will continue to lead. We are increasing investments in renewable energy and energy efficiency. We will buy and create more demand for electric cars and trucks. We will increase our efforts to cut greenhouse gas emissions, create a clean energy economy, and stand for environmental justice. And if the President wants to break the promises made to our allies enshrined in the historic Paris Agreement, we'll build and strengthen relationships around the world to protect the planet from devastating climate risks.
The world cannot wait — and neither will we.
https://medium.com/@ClimateMayors/climate-mayors-commit-to-adopt-honor-and-uphold-paris-climate-agreement-goals-ba566e260097