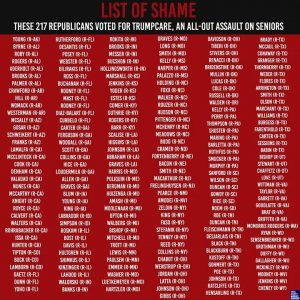 Here are the names of all of the Republicans who voted Yes on May 4, 2017. (Click on image to enlarge.)
Action #1.

 Call Toll free 1-844-241-1141 (a number that will randomly make the selection of who receives the call) and tell them that you:  "will be funding their opponent in their next re-election.  It's not a state constituency issue when citizens in every state will be affected by national health care policies.  We know who they are and we will not forget, no matter what the Senate decides to do."  
Action #2.

 Donate as little as $1 towards defeating these Republicans. Here's a special fund set up for that:
Twenty-four

Republicans from districts where Trump won less than 50 percent of the vote in 2016 voted for this bill.

Democrats need 24 seats to take back the House

. Most of these races don't have Democratic candidates yet or have primaries next year. But we're not waiting till then.

Every dollar you contribute to a Democratic Nominee Fund on this page will be transferred to the Democratic nominee when they win their

primary next year.

 That means every dollar will go directly to beating Paul Ryan's majority and taking back the House.  You can select CA districts, or your donation will be spread evenly by ActBlue.