Democratic Club Santa Maria Valley meetings are held every third Thursday of the month, IHOP Restaurant, 202 Nicholson Ave, Santa Maria, 93454.

JOIN US!  No-host social and menu dinner at 5:30 pm – 7:00 pm.
  
Speaker session open to the public 7:00 -7:40 pm followed by 
DCSMV business meeting (registered Democrats only) until 8:30 pm.  Call for more information 1-805-349-2708, Office open M-F, 11a-2pm.
Presented by Speaker Coordinator, Scott Baker, 2nd V-P:
August  Guest Speaker:  Gloria Soto
Candidate for Santa Maria City Council, 3rd District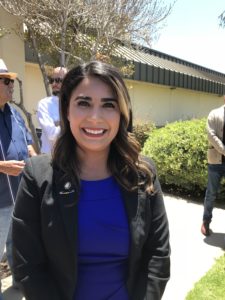 Gloria is unable to physically attend our meeting this month, but we are currently arranging a couple of options to enable Club members to hear what she has to say. It may be a live Skype presentation or recorded video or a combination. She will also have a representative of her campaign there to assist with answering questions.
Gloria Soto was born, raised, and educated in Santa Maria. She comes from an immigrant family whose example taught her the value of hard work and determination. Gloria took advantage of every opportunity that her family and community offered her. She holds degrees from Allan Hancock College and Chapman University.
Gloria is a non-profit professional who, over the last seven years, has worked with Planned Parenthood California Central Coast in a variety of positions, including education, public affairs, community engagement, and development. Currently, she is the Regional Development Manager. Her work in the non-profit sector has also included volunteering to train youth leaders and directing week-long youth leadership programs. In addition, she is a member of the Board of Directors for Future Leaders of America and has served on The Fund for Santa Barbara's Grant Making Committee (GMC). She is currently the GMC liaison to the Fund's Board of Directors. Her wide experience with non-profit organizations has taught her the importance of building coalitions between communities and individuals who share common goals.
Gloria is a homeowner and resident of the Westgate neighborhood in District 3. She is bilingual, bi-cultural, and deeply connected to the Santa Maria Valley's many communities. Gloria understands the everyday struggles of families in our city and will be a fierce advocate for affordable housing, living wage jobs, and expanding opportunities for all the youth of Santa Maria. The Candidates & Endorsement Committee recommends her endorsement.
Mark your calendars to vote November 6, 2018.  Re-register if you have moved, changed your name.  Vote-by-mail.
http://www.sos.ca.gov/elections/